Written by Christian Lawlor on December 5, 2016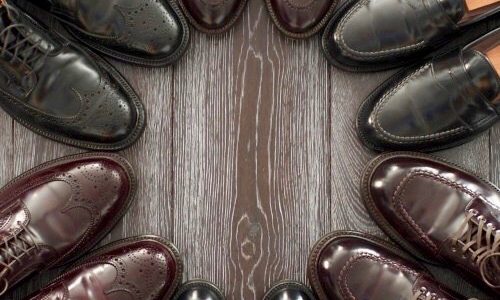 Finally, after probably 10 years threatening to invest in a pair of Shell Cordovan shoes I made the leap.  I was taken to London by my wife and children for a surprise birthday trip and while there I paid my usual visit to Crockett & Jones on Jermyn Street.
About 12 years ago, when I first came across Crockett and Jones it in itself was a serious leap to a price point and probably a quality that I had never experienced before.  However, once that boundary was broken it seemed to open the floodgates for me and Crockett and Jones for the next number of years.
There is however, a type of shoe I have had my eye on for quite a few years.  The Shell Cordovan loafer.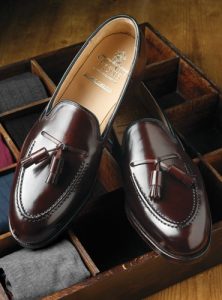 Shell Cordovan is a type of leather that is taken from horses.  The name comes from the flat muscular (shell) fiber that comes  from just under the hide, it originated in Cordoba, Spain. The hide is cut along the backbone and the resulting pieces are called the "front" and the "butt". The leather from the front is usually kept for the process of glove making with the butt being used for shoes and watch straps.  The tanning process for Cordovan leather is unlike any other and therefore the colour selection is quite limited.  I believe that the tanning process of the shoemaker Alden http://www.aldenshoe.com takes up to six months to complete.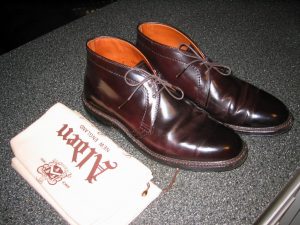 However, the resulting patina from Cordovan leather is something that ages for the better each year, and Cordovan shoes are known to pass from one generation to the other.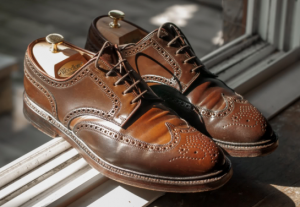 Given that they are easily double the price of a normal pair of shoes from Crockett & Jones it took me a few years to justify (at least in my head) to finally buy a pair.  I was in the store on Jermyn Street being extremely well looked after by the staff in the shop and trying on a pair of shoes. While the  lady was gone to the stores to get a smaller size for me, I noticed a pair of shoes on display. It was the colour that initially attracted me.  Even though it was a Mahogany colour and the shop was not short of browns, tans and wines this particular shade stood out among them all.  I tried them on, and not only did they look good they were so comfortable. The deal was done. I couldn't back out once again on buying a pair of these shoes.
So, with a little bit of insight on the history and process that goes into a pair of Cordovan leather shoes, are they worth the higher price compared with a pair of grain leather bench made shoes?  Definitely.